INTERRA, Inc. has been part of more than 15 distinct projects for Forest Preserve District of Cook County for more than 10 years. Work has included Quality Assurance testing and inspection, geotechnical, and environmental engineering services. Projects have consisted of structures, new trails, buildings, lakes, boat launches, woods, and parking lots.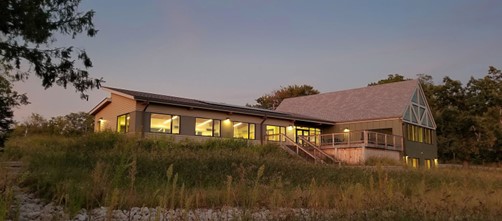 INTERRA has conducted services for soil, concrete, steel, and asphalt. INTERRA has verified the bearing capacity for the foundation, determined subgrade suitability, soil boring investigation, sampling, and soil compaction. Services also included monitoring and testing of the utility backfill.
INTERRA provided visual inspection and pocket penetrometer testing on test pits at the various project sites. Recommendations were also made on foundation placement as well. Concrete testing and inspection included air content, temperature, strength, and slump. Cylinder specimens were also cast and transported to the INTERRA laboratory. For asphalt, both the temperature and density results were verified.
Rolling Knolls Welcome Center (Pictured Above)
Schiller Woods East
Dan Ryan Woods
River Trail Sugar Shack
Camp Sullivan Family Development
Maple Lake
Bull Frog Camp
Swallow Cliff Site Improvements
Bridge Over Thorn Creek
Various Dams and Canoe Launch
To see more Recreation projects completed by INTERRA, please click here.